The Fintech Association of Trinidad & Tobago DEVELOPING FINTECH SOLUTIONS
FinTech TT held its official public launch at the National Museum and Art Gallery of Trinidad & Tobago, Port of Spain on Wednesday 5th February 2020. Stakeholders from both the public and private sectors were treated to an immersive Cashless Carnival experience and got a taste of various aspects of Carnival (and other aspects of daily life) that could be converted to a cashless experience using FinTech applications.
Addressing the crowd via video presentation, the Honourable Colm Imbert, Minister of Finance said he was very happy to be associated with the launch of FinTech TT and its objective to promote, educate and collaborate in the use of digital technology in financial services.
The Minister shared the following with the various stakeholders who attended the event: "The Government has already begun moving in this direction. In the Ministry of the Attorney General, they are already moving swiftly to remove the use of cash payments, and departments such as the Registrar General's office (including Registries of Companies) and soon, the Licensing Office will utilise this form of payment. There is also a plan to implement this at Inland Revenue and Treasury offices. T&T IFC, the brain behind all of this has already started working with various stakeholders in T&T to spread the use of digital technology in financial services."
Referencing the Cashless Carnival theme, Omar Sultan-Khan, CEO of the T&T IFC spoke about the possibility of having a safer and more secure Carnival through the introduction of a cashless system. He said, "A cashless Carnival will mean there will be no long queues, it will save time, there is greater security, more efficient hygienic routines (as no cash is exchanged) and increased financial control and management." Guests were also treated to a first-hand look at the Association's new logo and brand identity.
About FinTech TT- FinTech TT is an inclusive, non-profit organisation which aims to improve the delivery of financial services in T&T and the wider Caribbean and promote a cashless future through the use of Financial Technology. The Association aims to bring together FinTech stakeholders and create a collective voice for the industry. It will focus on facilitating collaboration between market participants and stakeholders and providing a platform for members to engage with key agencies and stakeholders, share ideas, solve problems, promote best practices, network and shape the future.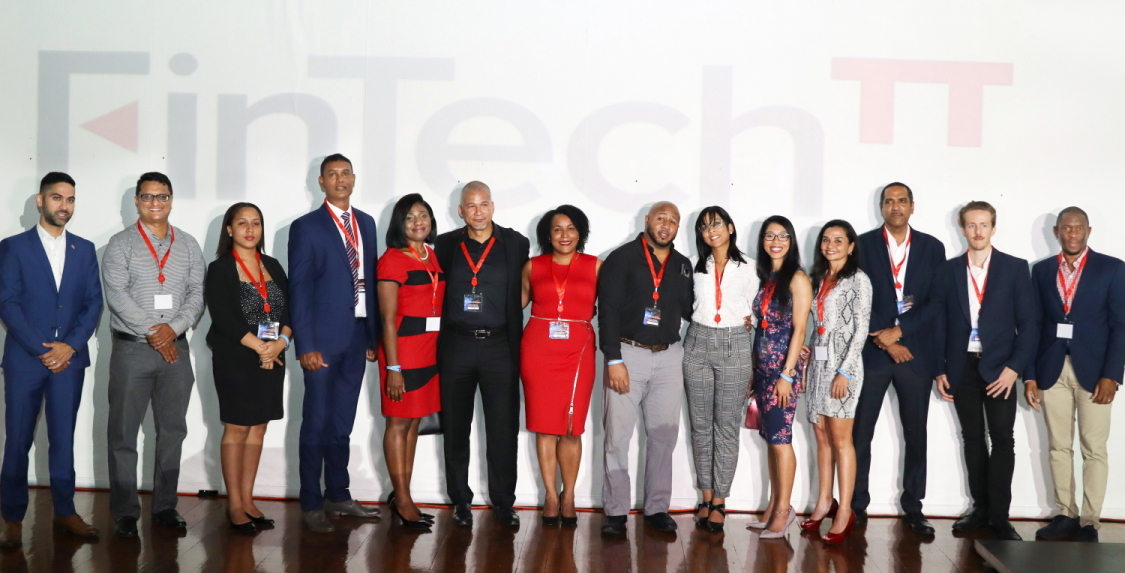 Members of FinTech TT Interim Management Committee flanked by T&T IFC's CEO (left) and Manager, Financial Markets Development (right)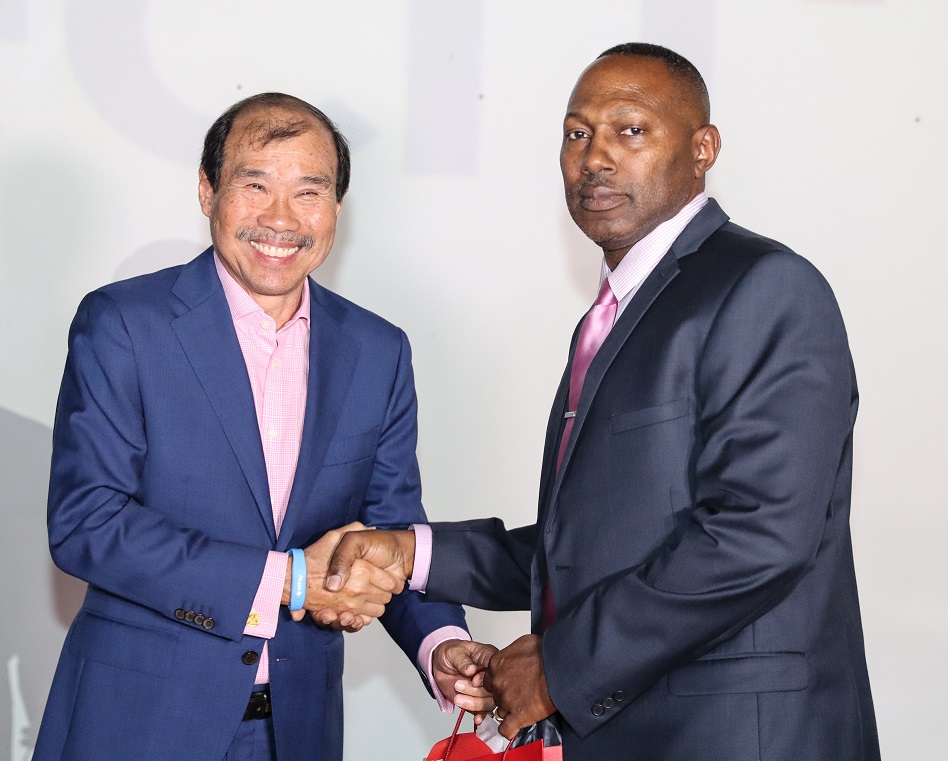 Claudelle Mc Kellar, Permanent Secretary in the Ministry of Public Administration (Ag) receives a token of appreciation from T&T IFC's Chairman Richard P. Young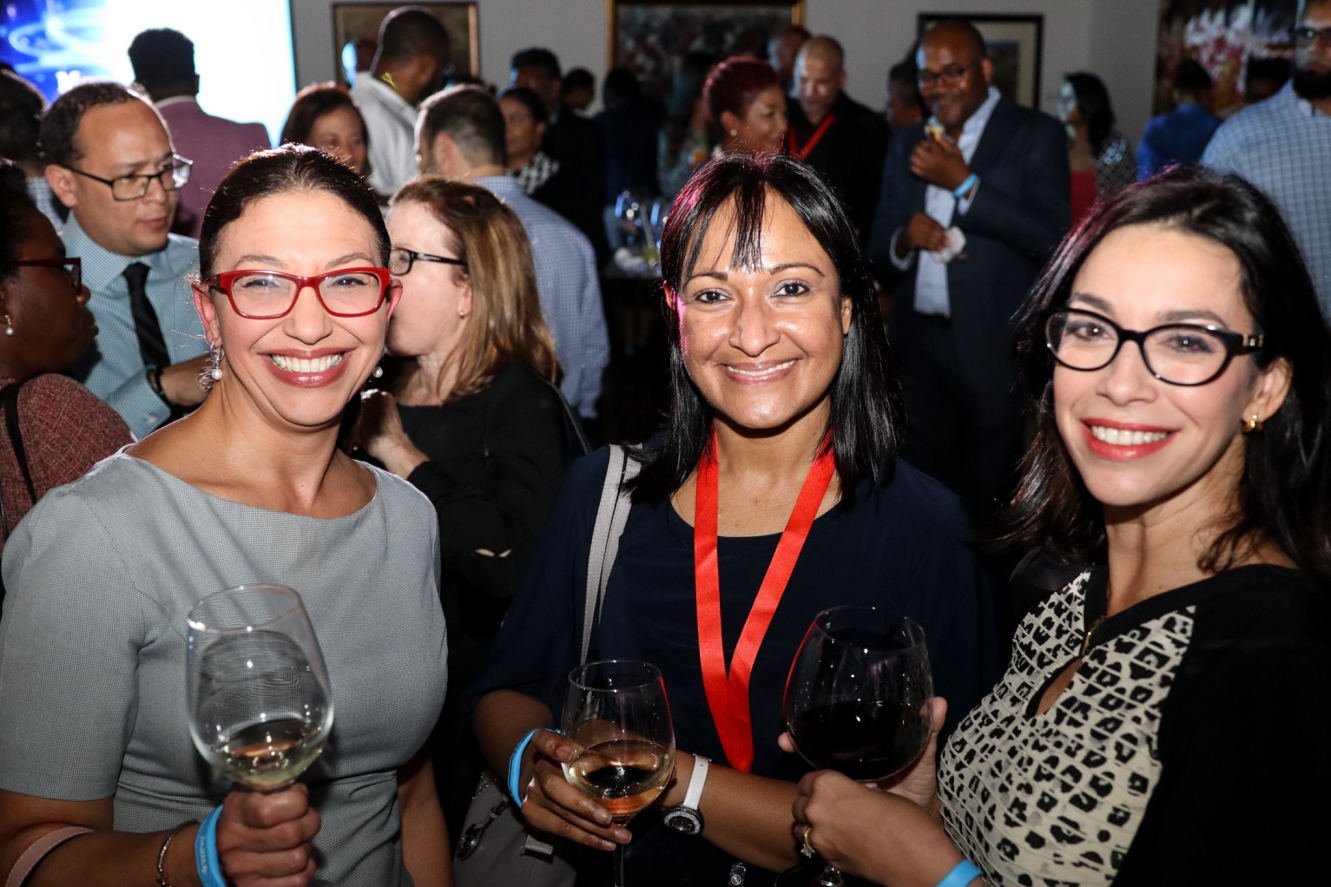 (L-R) Gretchen Camacho- Mohammed, Managing Director RBC Royal Bank (Trinidad and Tobago Ltd); Marsha Dookeran, CFO, Digicel Trinidad Ltd.; Sasha Thompson, COO, WiPay­­
To listen the Minister's speech click on link https://www.youtube.com/watch?v=smZ01QP8k1E
To listen the Chairman's speech click on link https://www.youtube.com/watch?v=2a5JBuQIM2M
For more information visit, www.ttifc.co.tt//fintechtt