The term FinTech is an amalgamation of two words, financial and technology. In the world of business, FinTech describes the facilitation of buying and selling with the use of technology to make our lives easier. For those of us who are old enough, we can recall the 1990s or even earlier when making a payment for a product or service from abroad was done with cash, a cheque, a money order, or another similar instrument. It would, at the very least, require a trip to the bank and the post office. Compare that long process of the past to how we can now purchase almost anything online with the click of a button. That is how FinTech facilitates a faster and easier way of buying and selling in the modern era. While we've become accustomed to using credit and debit cards in private businesses both locally and internationally, this has not necessarily held true for government services…at least until recently. The following is a case study that illustrates the adoption of FinTech by the Ministry of Works and Transport's Licensing Division. It will discuss the Mobile Licensing Unit, which launched in October 2021, and
how this new service uses financial technology to create a safer, faster, and more convenient service for clients.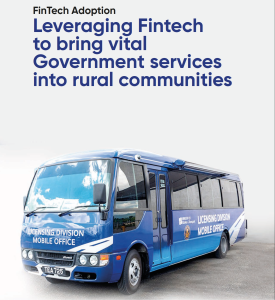 It is important to realize that the Government is indeed committed to the complete digitalization of the national economy including the delivery of its many services. According to the National Information Communication Technology (ICT) Plan (2018-2022), the bold vision in the public sector is to deliver services that are "simple, fast, secure, and end-to-end." Efforts will seek to allow citizens to derive "high value from the use of ICT, benefiting themselves and society."
Likewise, the Ministry of Works and Transport has also been actively involved in enhancing its ICT services in many areas, including those at the Licensing Division. This has resulted in various offerings being upgraded to a digital format, which has significantly enhanced the user experience. The Mobile Licensing Unit is one example of this. From the outset, this mobile service launched with rave reviews as it seeks to meet customers closer to their point of need.
The Ministry was aware for a number of years that many people had difficulty accessing selected licensing services. Clients in remote areas, including Toco, Manzanilla, Rio Claro, Cedros, Moruga, and Charlotteville, had to travel long distances in order to visit one of the Licensing Division's satellite offices. Additionally, depending on the nature of certain transactions, people had to visit a stationary licensing office multiple times, which increased travel costs and frustration.
Payment was one of the issues that stood between the creation of a successful offering like the Mobile Licensing Unit and the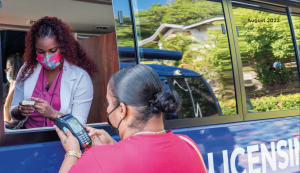 system that existed prior. Under the previous era of service at the Licensing Division, payments were cash and cheque only, which meant that clients had to visit the office with large sums of cash; this posed a security risk. Money was received through manual cash register devices which meant inconsistencies in the tally of revenue and missing cashbooks and ledgers. This manual, antiquated system also led to a lack of transparency and accountability and a lengthy reconciliation process for the close of daily cash. Thankfully, the move toward digitalization paved the way for FinTech adoption, which has made payment a whole lot easier, eliminated the challenges of the past, and facilitated the roll-out of the Mobile Licensing Unit. The use of FinTech has enabled LINX Payment to be accessed through debit cards, which provides security, the convenience of paying anywhere that accepts point of sale payment and reduces the need for large sums of cash.
This technology also offers the potential to accept online payment, a feature that the Licensing Division plans to implement in the near future. Additionally, it has implemented the use of electronic client-server cash registers and electronic cash books, which contribute to greater accountability, including accurate record keeping and audit trails. Consequently, residents in Waterloo, Flanagin Town, Mayaro, Carenage and Toco/Cumana have enjoyed hassle-free access to selected services without having to travel lengthy distances to visit a licensing office.
The Mobile Licensing Unit is equipped with the necessary infrastructure and consumables to allow for:
Renewal of Driver's Permits
Change of Name (driver's permits)
Change of Address (driver's permits)
Replacement of Lost/Stolen Driver's Permits
A tally of recent statistics shows that the Mobile Licensing Unit has served close to 6,000 individuals.
Take a look at some of the positive feedback received: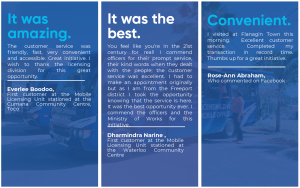 Accolades such as these demonstrate the high level of appreciation that clients of government services hold for convenience, and ease of access.
It is quite clear that the new convergence between technology adoption and improved business processes has resulted in greater efficiency at the Licensing Division. There is certainly a thirst for more public sector facilities that are as accommodating as the Mobile Licensing Unit, and with the continual proliferation of FinTech across the Government; such a world of convenience is certainly possible.
Read our Overcoming Digital Islands and Siloes article or click HERE to access our other articles.
For more information, contact the TTIFC HERE