T&T will smoothly transition to cashless society says Central Bank Governor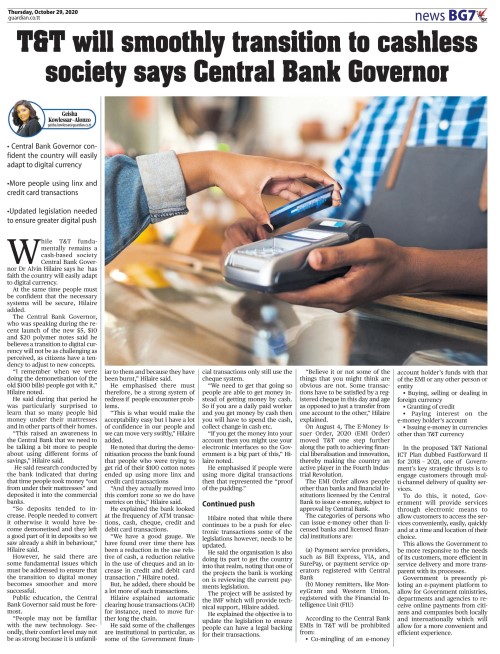 T&T will smoothly transition to cashless society says Central Bank GovernorBy Geisha Kowlessar-Alonzo While T&T fundamentally remains a cash-based society Central Bank Governor Dr Alvin Hilaire says he has faith the country will easily adapt to digital currency., At the same time people must be confident that the necessary systems will be secure, Hilaire added., The Central Bank Governor, who was speaking during the recent launch of the new $5, $10 and $20 polymer notes said he believes a transition to digital currency will not be as challenging as perceived, as citizens have a tendency to adjust to new concepts., "I remember when we were doing the demonetisation (of the old $100 bills) people got with it," Hilaire noted., He said during that period he was particularly surprised to learn that so many people hid money under their mattresses and in other parts of their homes.
"This raised an awareness in the Central Bank that we need to be talking a bit more to people about using different forms of savings," Hilaire said., He said research conducted by the bank indicated that during that time people took money "out from under their mattresses" and deposited it into the commercial banks., "So deposits tended to increase., People needed to convert it otherwise it would have become demonetised and they left a good part of it in deposits so we saw already a shift in behaviour," Hilaire said., However, he said there are some fundamental issues which must be addressed to ensure that the transition to digital money becomes smoother and more successful.
Public education, the Central Bank Governor said must be foremost., "People may not be familiar with the new technology., Secondly, their comfort level may not be as strong because it is unfamiliar to them and because they have been burnt," Hilaire said., He emphasised there must therefore, be a strong system of redress if people encounter problems., "This is what would make the acceptability easy but I have a lot of confidence in our people and we can move very swiftly," Hilaire added.
He noted that during the demonitisation process the bank found that people who were trying to get rid of their $100 cotton notes ended up using more linx and credit card transactions "And they actually moved into this comfort zone so we do have metrics on this," Hilaire said., He explained the bank looked at the frequency of ATM transactions, cash, cheque, credit and debit card transactions., "We have a good gauge., We have found over time there has been a reduction in the use relative of cash, a reduction relative in the use of cheques and an increase in credit and debit card transaction ," Hilaire noted., But, he added, there should be a lot more of such transactions.
Hilaire explained automatic clearing house transactions (ACH) for instance, need to move further long the chain., He said some of the challenges are institutional in particular, as some of the Government financial transactions only still use the cheque system., "We need to get that going so people are able to get money instead of getting money by cash., So if you are a daily paid worker and you get money by cash then you will have to spend the cash, collect change in cash etc., "If you get the money into your account then you might use your electronic interfaces so the Government is a big part of this," Hilaire noted.
He emphasised if people were using more digital transactions then that represented the "proof of the pudding.," Continued push Hilaire noted that while there continues to be a push for electronic transactions some of the legislations however, needs to be updated., He said the organisation is also doing its part to get the country into that realm, noting that one of the projects the bank is working on is reviewing the current payments legislation., The project will be assisted by the IMF which will provide technical support, Hilaire added., He explained the objective is to update the legislation to ensure people can have a legal backing for their transactions.
"Believe it or not some of the things that you might think are obvious are not., Some transactions have to be satisfied by a registered cheque in this day and age as opposed to just a transfer from one account to the other," Hilaire explained., On August 4, The E-Money Issuer Order, 2020 (EMI Order) moved T&T one step further along the path to achieving financial liberalisation and innovation, thereby making the country an active player in the Fourth Industrial Revolution., The EMI Order allows people other than banks and financial institutions licensed by the Central Bank to issue e-money, subject to approval by Central Bank.,
The categories of persons who can issue e-money other than licensed banks and licensed financial institutions are:
(a) Payment service providers, such as Bill Express, VIA, and SurePay, or payment service operators registered with Central Bank
(b) Money remitters, like MoneyGram and Western Union, registered with the Financial Intelligence Unit (FIU)
According to the Central Bank EMIs in T&T will be prohibited from: • Co-mingling of an e-money account holder's funds with that of the EMI or any other person or entity
• Buying, selling or dealing in foreign currency
• Paying interest on the e-money holder's account
• Issuing e-money in currencies other than T&T currency
In the proposed T&T National ICT Plan dubbed Fastforward II for 2018 – 2021, one of Government's key strategic thrusts is to engage customers through multi-channel delivery of quality services.
To do this, it noted, Government will provide services through electronic means to allow customers to access the services conveniently, easily, quickly and at a time and location of their choice., This allows the Government to be more responsive to the needs of its customers, more efficient in service delivery and more transparent with its processes., Government is presently piloting an e-payment platform to allow for Government ministries, departments and agencies to receive online payments from citizens and companies both locally and internationally which will allow for a more convenient and efficient experience.
http://tenders.media-insite-clients.com/content/press/165523